Disclosure: We receive commission on purchases made through links on this page/in this email.
Hubspot offers a unique package of inbound marketing and sales software for small to medium-sized businesses.
For those with a marketing approach that is geared more towards online traffic generation and online sales, Hubspot provides an affordable selection of tools that should help with your marketing efforts.
Take a look at this 1 Minute Review of Hubspot to find out if this is the right software package for you and your business.
Hubspot Short Overview
What is Hubspot? Hubspot is a major inbound marketing solutions company used by a large amount of online businesses.
Easy To Use Marketing Software
If you need better management for your online marketing, including landing page creation, blogging, search engine optimization, and basic marketing automation, then Hubspot offers a less expensive alternative to detailed automation programs.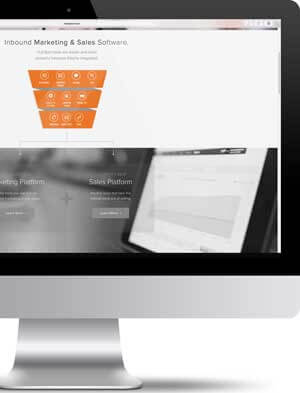 Hubspot was founded in 2006 with the intention of helping businesses make more effective use of their marketing techniques.
Consumers were changing the way they searched for products and services online and businesses were having difficulty adjusting to these changes. With that in mind, Hubspot aimed to aid businesses looking for easy to use marketing solutions.
Hubspot Pros and Cons
As with any marketing software, there are pros and cons to using Hubspot. Depending on your individual business needs, Hubspot may be a helpful platform for your online marketing.

PROS

CONS

Easy to use online tools that do not require extensive training.
A variety of pricing options to fit any budget.
SEO and other online marketing software for boosting online traffic.

A lack of detailed marketing automation tools.
Compared to other automation programs, there are fewer subscriber management options.

When Should You Choose Hubspot?
Hubspot is a great choice for any business; though, those looking for search engine optimization and online marketing tools may get more out of the software.
Hubspot also provides a wonderful starting off point for businesses that are just getting into marketing management and want to explore the benefits of using marketing software.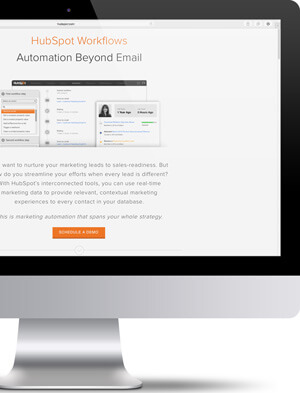 A Suite of Online Marketing Tools
Having a selection of online marketing tools all in one spot makes using Hubspot a streamlined process. Users can easily manage their social media efforts, online marketing, and SEO – all from one spot.
While Hubspot does offer email marketing automation and contact management options, these features may not be intuitive enough for some larger businesses or for those wanting more control over their email marketing campaigns.
Hubspot Pricing
Pricing for Hubspot varies greatly – based on the services you require. With Hubspot, you could spend anywhere from $200 – $2,400 per month, depending on the packages you select.
Basic Package
The Basic Package starts at $200 per month and includes management of up to 100 contacts and provides most of the online marketing features that a small business would benefit from.
Enterprise Package
The Enterprise Package is priced at $2,400 per month and begins to rival more of the higher-end automation programs, such as Infusionsoft or Ontraport.
Final Verdict
Hubspot offers a solid selection of tools and resources for businesses of any size; however, small to medium size businesses may benefit the most.
A Good Starting Point
The $200 per month price tag may fit the budget of smaller businesses and includes everything you will need to manage a smaller marketing campaign.
For Enterprise solutions, Hubspot does not quite offer the same level of customization and contact management as automation programs focused on email marketing and lead generation – especially when considering the steep $2,400 per month cost.
If you are just starting to use marketing automation software to boost your online marketing techniques, then Hubspot is a good starting point, but you may want to look into alternatives at the Enterprise level.
Hubspot Alternatives
When you are in need of more detailed automation features, then it won't hurt to take a look at the differences between Hubspot and Infusionsoft in my in-depth Infusionsoft vs. Hubspot comparison article.
Additionally, there are a few other alternatives to using Hubspot, which you can check out in the Hubspot Alternatives report.
Have a Question?
Thank you for taking the time to check out this 1 Minute Review of Hubspot. If you have a question about Hubspot or any other marketing automation software, leave me a message below.