Are you looking for an alternative to using MailChimp for handling your mass email marketing campaigns? Then you are in the right place.
MailChimp is a simple service for managing mass emails, but there are a number of helpful alternatives that you should be aware of.
Top 3 Alternatives to MailChimp
Alternatives to Using MailChimp
MailChimp is great for managing a set of mass emails for free. When you expand beyond the 2,000 subscriber limit, it may be time to look for a MailChimp alternative.
Pay attention to:
The potential size of your email marketing.
The amount you can reasonably afford to spend on a MailChimp alternative.
Specific features that you may require.
The Top Alternatives to MailChimp
Depending on the features you will need, I believe these 4 alternatives provide the next step in marketing automation.
1) Ontraport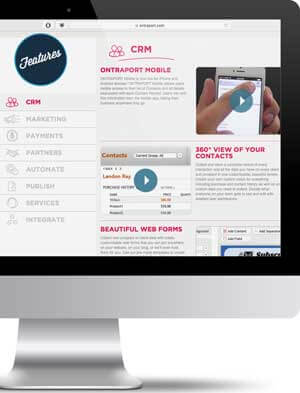 Ontraport has a long track record of providing a superior product. The level of customization and management surpasses most other programs.
The Benefits of Ontraport
Custom daily reports and analytics for monitoring your marketing campaign.
Additional features include scheduled mass email, multiple campaigns, and a members section WordPress plugin.
Complete suite of tools for managing marketing campaigns.
The Drawbacks of Ontraport
Going from a free service such as MailChimp to Ontraport is a large increase in business expenses.
Some users will require time to familiarize themselves with the software.
Ontraport Pricing
Ontraport has several marketing automation solutions for businesses of varying sizes, with prices between $297 and $597 a month.

2) Infusionsoft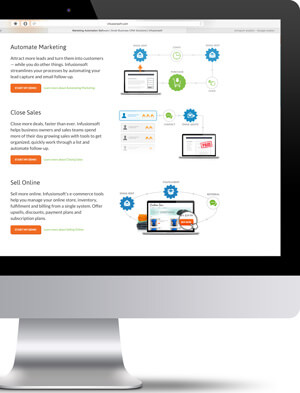 Infusionsoft is one of the few programs that matches Ontraport in the management of mass email marketing, with a comparable price tag.
The Benefits of Infusionsoft
Provides everything you need to manage even the largest marketing campaigns.
Thorough training is provided and required after purchase.
Automated reporting customized to your needs.
The Drawbacks of Infusionsoft
The only real drawback of the Infusionsoft software is the complex settings and features.
The training, starting at $1,999, is required (but very helpful).
For more information about the differences between Infusionsoft and MailChimp, check out our Infusionsoft vs MailChimp comparison.
Infusionsoft Pricing
The monthly price for Infusionsoft is $199 – $379/ month (training starts at $1,999).

3) SalesForce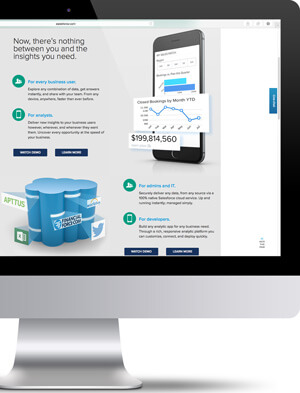 SalesForce has a quality set of services for helping you track and manage your emails and subscriber lists.
The Benefits of SalesForce
The moderate features are presented in an easy to use interface.
Businesses can choose a plan that fits their budgets.
Quality customer service and support.
The Drawbacks of SalesForce
SalesForce uses a tier pricing plan, requiring upgrades to access various features.
Adding CSV files from other platforms is time-consuming.
SalesForce Pricing
The 4 tier pricing plan starts at $25/month for the Business Plan with limited features.
The Enterprise Plan is $125/month with a solid set of features and the ability to manage larger campaigns.

4) Hubspot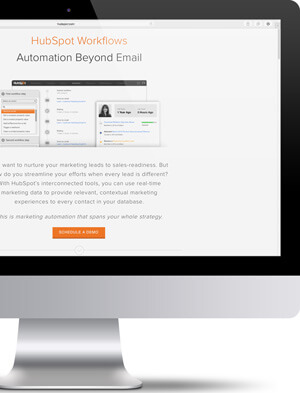 Another alternative for those stepping up from MailChimp is Hubspot – with a focus on online marketing and some email marketing options.
The Benefits of Hubspot

Hubspot can be used to manage social media marketing.
Simple web-based services for managing accounts and features.
Pick and choose which affordable services you want.
The Drawbacks of Hubspot

Hubspot has great services, but is limited in options and diversity.
Without higher-end automation, Hubspot is better for improving SEO and increasing your online presence.
Hubspot Pricing
Depending on the services you select, Hubspot can cost anywhere between $200 – $2,400/month.

The Final Verdict
Remember the 3 points made at the beginning – look at the size of your campaigns, your budget, and the features you will need. These are all fine programs, with their own strengths.
Ontraport and Infusionsoft offer high-quality management for even the largest campaigns with a multitude of features and in-depth training.
SalesForce and Hubspot fall inbetween the latter and MailChimp; though, the more affordable rates could appeal to smaller businesses.
Have a Question?
If you require any additional advice, leave a comment in the comment section below and I will get back to you shortly.