Email marketing can quickly go from a small project to a large campaign with a number of variables. To keep track of everything, many businesses turn to email marketing automation programs, such as Keap (Infusionsoft) and SalesForce.
Whether you are looking for an Keap alternative, or you are new to massive email marketing campaigns, learn more about the differences between Keap and SalesForce.
Read the rest of this Keap vs SalesForce comparison before making your final decision:
Keap (Infusionsoft)

PROS

CONS

Offers detailed in-person training
as well as intuitive online training.
Reliable customer support available 24/7.
Provides a number of features that cannot be found on other automation
programs.

The interface can appear intimidating.
Keap has a higher starting price than other programs.
The high monthly costs may be too steep for small businesses.

SalesForce

PROS

CONS

Various pricing tiers helps everyone find
an affordable option.
The layout and dashboard are easy to use.
The online training out performs the online training provided by Keap.

Users may be discouraged by the variety of add-ons.
There is difficulty exporting and importing CSV files.
The initial transition from another automation program can be time-consuming.

When You Should Choose Keap (Infusionsoft):
Keap is a top-of-the-line automation program with a suite of features, some of which are unavailable elsewhere.
If you are looking for one of the most used automation tools with unlimited potential, Keap remains a popular choice.
Detailed Training and Quality Customer Support
A large portion of the starting costs required for Keap are due to the training program. This training will allow you to learn this complicated system correctly and efficiently.

When You Should Choose SalesForce: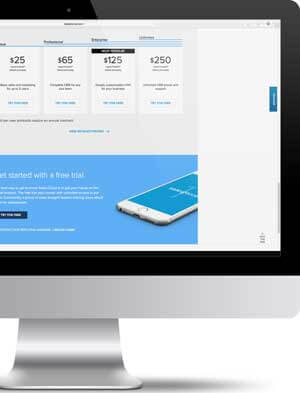 SalesForce provides a slightly more affordable option, depending on which package you choose. A small business with a smaller budget, could begin using SalesForce for as little as $300 for the year, which comes out to $25 per month.
Multiple Price Points
In addition to the Group Plan at $25 per month, SalesForce has 3 other packages. The most popular option is the Enterprise Plan at $125 per month, which offers custom application development and CRM management solutions.

Side by Side Comparison
| | | |
| --- | --- | --- |
| Category | Keap | SalesForce |
| User Experience | 4.0 | 4.2 |
| Training | 5.0 | 4.0 |
| Pricing | 2.0 | 4.6 |
| Additional Features | 5.0 | 3.5 |
| Customer Support | 4.5 | 3.5 |
| Campaign Management | 4.0 | 3.8 |
| Overall Rating | 4.0 | 3.9 |
This chart offers an overview of the main differences between Keap and SalesForce. If you want a more detailed explanation behind these ratings, then click on Detailed Comparison:

Detailed Comparison >>
Examining the Comparison
1) User Experience
Keap is known for its highly structured and detailed interface. When it comes to the user experience, SalesForce has made it fairly easy to change settings, setup accounts, keep track of clients, and perform a variety of tasks without extensive training.
2) Training
SalesForce does not include in-depth training, but it does not really require it. On the hand, the extensive training given by Keap is needed in order to fully explore this program.
3) Pricing
Keap has a reasonable monthly rate, with an additional $1,999 to start for training packages. SalesForce has comparable plans, but also has a couple of other choices when money is an issue:


Keap – $2,388 to $4,548 per year ($1,999 starting price for training packages)


SalesForce – $300 to $3,000 per year (4 total plans to choose from)


4) Additional Features
Both programs have a host of additional features, but with SalesForce, you have to pay separately for a number of options. Depending on the plan you choose, certain features will not be available without extra fees.
Some of the features you can expect from Keap include advanced tracking features, customer profiles, and extensive contact and subscriber management options.
5) Customer Support
Keap lets you contact an actual person over the phone or through chat to solve your problems in real-time, while SalesForce may take a little longer to get a hold of. Customer support tickets are handled quickly by both; though, Keap can often handle issues on the spot.
6) Campaign Management
With Keap, you can get as detailed as you want with your campaign management. Handle data from multiple sources, track tasks and workflow, schedule automatic reports, and manage mass emails.
SalesForce also offers a detailed campaign management setup, with basic account and contact management for those with the Group Plan and enterprise level management with the Enterprise Plan.
7) Overall Rating
In the end, these two programs are fairly evenly matched. Their prices overlap at several price points and both offer extensive campaign management options and CRM features. Keap may be more popular, but SalesForce is an almost equal option.
The Final Verdict
Are you still on the fence about whether you should choose Keap or SalesForce? Both email marketing automation tools are valuable resources with similar pricing for higher end services.
Keap may be better suited to a large enterprise, while SalesForce has several options that would easily help any small to medium-sized business.
Managing contacts, having mobile access, handling mass emails, tracking opportunities, and maximizing the effectiveness of your marketing campaigns is possible with either program, so your choice may simple come down to the price that best fits your budget.
Have any questions?
Let me know if you have any questions about this comparison by leaving me a message in the comment section below and I will get back to you.