Mailchimp provides users basic email marketing solutions at a great value.
The services they offer are aimed at improving the way you use email newsletters and boost the effectiveness of your overall email marketing campaign.
Starting off with a number of services for free, Mailchimp lets you learn more about marketing campaign management. Here is a 1 Minute Review of Mailchimp to give you a more detailed understanding of their features.
Mailchimp Overview
Mailchimp is a popular option for smaller businesses that are just starting to use marketing automation for mass emails.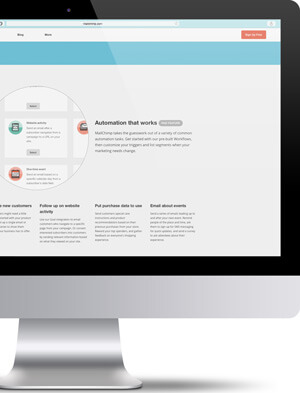 Free Email Marketing Features
As mentioned, Mailchimp starts off as a free service, giving users the ability to manage small mass email marketing campaigns, but they do not really expand beyond email marketing.
You can use Mailchimp to manage subscriber lists and automate the sending of mass emails and newsletters.
They also include subscriber profiles and decent analytics for tracking your campaign.
Mailchimp Pros and Cons

PROS

CONS

Free to use if you have less than 2,000 subscribers.
Simple to use environment without any distractions or complex features.
Users can synchronize their Mailchimp tracking with Google Analytics.

Does not include more detailed options and features.
May not offer the complexity needed for large email marketing campaigns.

When Should You Choose Mailchimp?
Mailchimp should definitely be considered if you have a limited budget. If you have less than 2,000 subscribers, then Mailchimp is free to use.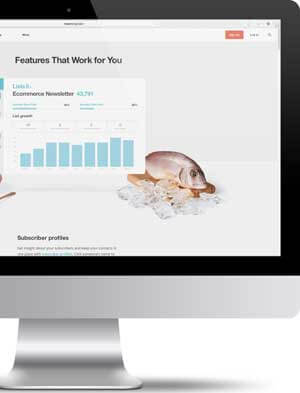 As discussed, Mailchimp solely focuses on email marketing. You will not find many features beyond this; though, the email marketing automation features that they include are extremely easy to use and anyone can quickly setup their own email marketing campaign.
Mailchimp Pricing
While Mailchimp at it's base is a free service, they also have a couple of other affordable options:
| | | |
| --- | --- | --- |
| Entrepreneur | Growing Business | High Volume Sender |
| FREE | $15 / month (average) | $475 / month (average) |
| 3 users | 4 users | 4 users |
| 2,000 subscribers | 50,000 subscribers | Unlimited subscribers |
| 12,000 emails per month | Unlimited emails per month | Unlimited emails per month |
Beyond 2,000 subscribers Mailchimp requires users to choose a premium plan. These include unlimited emails and more subscribers. Additionally, users may choose to purchase email credits that never expire.
Final Verdict
Mailchimp may have the best option for handling mass email marketing for smaller businesses – especially considering the fact that Mailchimp is free to use with less than 2,000 subscribers.
Beyond email marketing, Mailchimp does include a few other features that businesses will benefit from; however, for detailed campaigns and ecommerce solutions, you may require a different marketing automation program.

Mailchimp Alternatives
Mailchimp is a perfect place to start when you are learning about mass email marketing, but if you are in need of more detailed features and resources, then look into alternatives.
I have compiled a collection of other office automation programs that provide additional features and services when compared to Mailchimp. Take a look at Mailchimp Alternatives.
If you have heard of Infusionsoft and are wondering how Mailchimp stacks up, then read my Infusionsoft vs. Mailchimp comparison.
Have a Question?
Thanks for reading my review of Mailchimp. If you want more information or would like to leave a comment, leave a message below and I will gladly respond.