SalesForce has been a popular choice for businesses of all sizes that need help managing their marketing efforts.
While SalesForce can be helpful, there are several other options that may suit your needs more efficiently.
Top 3 Alternatives to SalesForce
Alternatives to Using SalesForce
When shopping around for new office automation software, pay attention to the details that matter most to you. Look at prices differences, features, and the numbers of subscribers you are allowed to store.
The Best Alternatives to SalesForce
When you are in the market for new email marketing tools, look over this selection of the top SalesForce alternatives.
1) Ontraport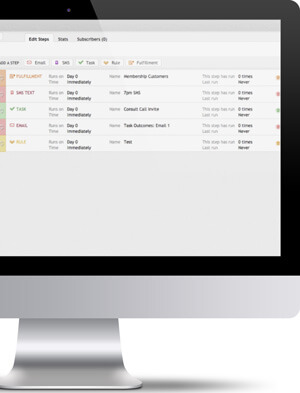 Ontraport is one of the most highly rated marketing automation programs. Using Ontraport, you can streamline your entire marketing approach.
The Benefits of Ontraport
Quality customer support and a vast amount of online resources for learning how to use the software.
Reliable and detailed reporting of your marketing results.
Tools for creating, tracking, and implementing large email marketing campaigns.
The Drawbacks of Ontraport
Some smaller businesses may not be able to afford Ontraport.
The complex dashboard and menus requires time to learn how to properly use all the features.
Ontraport Pricing
 Depending on the services you choose, Ontraport will cost you between $297 and $597 per month.

2) Infusionsoft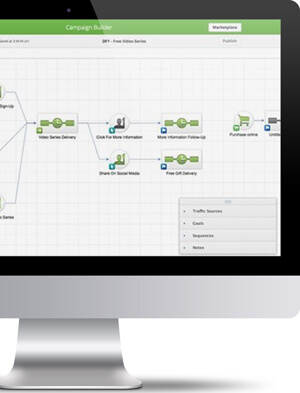 After Ontraport comes Infusionsoft – a consistently successful email marketing solution. Infusionsoft gives users the most detailed set of tools for setting up their campaigns.
The Benefits of Infusionsoft
Every user will love the freedom to build any type of marketing plan, including subscriptions, email promotions, giveaways, and more.
Keep track of your results with daily automated reports.
The personal training provided by Infusionsoft will fully explore all the features and settings that are available.
The Drawbacks of Infusionsoft
The overall user-experience is lacking simplicity and a streamlined interface.
The personal training packages is not optional, all users must pay a minimum of $1,999 for training.
Infusionsoft is a popular choice and I previously compared Infusionsoft to SalesForce. Take a look at the Infusionsoft vs SalesForce Comparison to learn more.
Infusionsoft Pricing
 In addition to the previously mentioned training packages ($1,999), users can expect to pay around $199 to $379 per month to use Infusionsoft.

3) Hubspot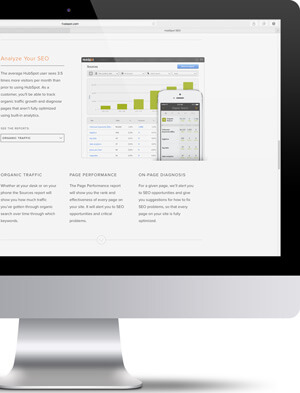 If you want to reach more potential customers through social media and traditional search engine optimization, then Hubspot could be the right choice.
The Benefits of Hubspot

Hubspot has a collection of online marketing services, including basic email marketing automation and contact list management.
Save money with Hubspot by only paying for the services that you have been looking for.
Start getting results quickly with helpful search engine optimization tips and improvements.
The Drawbacks of Hubspot

Hubspot does not have a lot of options for creating large email campaigns.
Compared to Infusionsoft and Ontraport, Hubspot does not have very many features.
Hubspot Pricing
 Since you get to create your own package around the services that you select, a monthly membership to Hubspot will vary between $200 and $2,400 every month.

4) MailChimp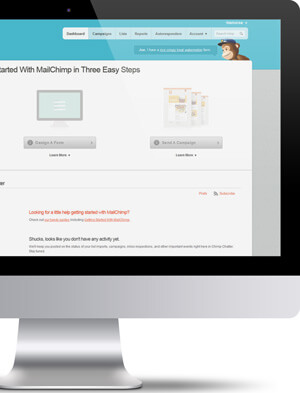 When you need a basic mass email service, MailChimp is a wonderful solution, with free services for businesses that are managing less than 2,000 subscribers.
The Benefits of MailChimp
MailChimp is free to use (under 2,000 subscribers) and includes a free email client.
Using MailChimp is easy and shouldn't require any training
MailChimp can help users learn how to properly manage a mass email marketing campaign.
The Drawbacks of MailChimp
A free service, MailChimp does not have the same level of customization as the other programs listed.
MailChimp is a basic program that should be used by those that are just starting to use email marketing automation programs.
MailChimp Pricing
If you stay under 2,000 subscribers, then MailChimp should keep you satisfied with their free services for the time being. After 2,000 subscribers, there is a $100 fee for each additional 500 subscribers.

The Final Verdict
Budget, size, and features, are the key aspects to choosing the right email marketing automation program. Consider those factors as I summarize the main points:
Choose Ontraport for any of your email marketing and subscriber management needs. It is one of the most helpful programs when it comes to marketing automation.
Infusionsoft is in the same league as Ontraport and includes more settings than you will probably ever need.
Hubspot may not be as complex as Ontraport or Infusionsoft, but it does offer valuable online marketing services, including search engine optimization and social media management.
MailChimp is a free program and great place to start when first using email marketing automation tools.
Review this info and start using an marketing automation program to boost your business.
The thing that makes the matter of looking for an alternative to any kind of tool, regardless of whether you are using it for the sake of marketing or anything else is the matter of choice. If you are going to purchase anything online for your business or personally, such as you might do with Infusionsoft, the thing to remember is how the value will correspond to the price that you are paying for.
It will never be the case that the value of something will not correspond to how much you need to spend. Higher quality means higher costs.
If you are going to choose an alternative to Infusionsoft, you have to make sure that it actually meets your needs instead of you simply settling for something that is cheaper. In the end, you are going to be the one that suffers the most if you simply prioritize price over the quality of the features.
Infusionsoft is sought after because it is offering among the very best features for marketing. That quality requires costs and those costs need to be covered by purchases. There is no doubt that the same goes for any other alternative that is out there.
Have a Question?
Thank you for taking the time to learn about alternatives to SalesForce.
If you need extra information or have any questions, leave a comment below and I'll get back to you.